FW Gettin Ready To Re-Open!
Fallout Wrestling is getting ready to re-open. After almost one month of closure, President Ecker has decided what to do and how to do it with FW. As of now, members will NOW be accepted! The RP and OOC boards will be back up and running very soon. "We are still looking for CARD WRITERS though because without them, there won't be any cards!!! So please, either e-mail Ekcer or Risbinsoft and appply to be a CARD WRITER!! Thanks! See you all soon!!!"

------
-----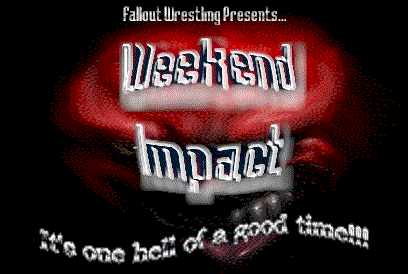 When FW returns, it will start out with a HUGE Weekend Impact!!!
Quote of the Week.
------

[Fallout Office]
FW Staff
FW Roster
FW Salaries
FW Calender

[Fallout Newbies]
FW History
FW Rules
Join FW

[Fallout Victims]
FW Stables
FW Rankings
FW Champions
FW Title Histories

[Fallout Shelter]
FW RP Center
FW OOC Center

[Fallout TV]
Weekend Impact
FW PPV: Nuclear Meltdown
FW House Shows
[FW Columns]
-----
-----

[FW Rubble]
Old FW News
FW Wallpaper
FW ScreenSaver
FW: The Game
Links